TORS OF DARTMOOR
a database of both lesser & well-known rocks and outcrops
About the Database

Introduction
The name of Dartmoor is synonymous with undulating hills, untamed valleys and surging rivers, yet above all else it is perhaps best loved and renowned for its spectacular granite masses that are known as tors. It has become possible thanks largely to the Ordnance Survey, for any visitor to the moor to now acquaint themselves with the names of the main tor attractions by simply consulting one of their freely available maps. It is evident that as Dartmoor's popularity increases so too does the knowledge and awareness of the many rock strewn hills that are crowned by the giant and memorable tors such as those of Hay (Hey), Kings, Great Mis, Fur and Staple Tors. The draw of these magnificent rockpiles stands testimony to the age of both the motor car and the tourist phenomenon.
Yet in spite of this recent growth in interest there remains for those who care to explore and venture into the heart and along the very edges of Dartmoor's terrain, many smaller and equally fascinating rock groups, some of which have already been noted in the literature but strangely fail to appear on modern maps, having somehow escaped the meticulous attention of the cartographer. Equally there are others which have yet to acquire an identity that are for example obscured from view such as those huge shadowy piles that are enveloped in trees particularly on the eastern side of the moor and mostly within the parishes of Hennock, Lustleigh, Manaton and Moretonhampstead. Then there are others that were once named and shown on much older maps but have somehow over time lost their importance and are no longer represented despite their ongoing presence. Collectively these are the truly lesser known tors of Dartmoor's landscape. The goal of our project is therefore to locate not only the well known but also those hidden and forgotten tors, encouraging people to visit and explore the moor in finer detail that will hopefully facilitate a greater understanding of and acceptance that the land we have grown to love and thought we knew has still so much more to reveal.
Tim Jenkinson - Adapted from the introduction to the original work on 'The Lesser Known Tors of Dartmoor' as seen in Dartmoor Magazine number 42.
Key to Information
This searchable database of the tors of Dartmoor National Park is the most definitive list available of both lesser and well-known tors and rocks. It has been set up to provide the following information regarding an outcrop:
Tor Name

Grid Ref:

Ordnance Survey 6 or 8 figure grid reference.

Height:

This is an estimate, and is either the highest point on or beside the tor. In some cases the contour height on Ordnance Survey has been used.

Parish:

Tor Classification:

Access:

Whether it is on private or public access land. For tors within the live firing ranges, visitors should check the

Dartmoor Firing Times

website before visiting. For those on private land, permission should be sought. For a few locations there is no access i.e. a landowner prefers nobody visits or requests permission, and in these cases please respect their wishes.

Click here for further details below

.

Rock Type:

Granite, Metamorphic, Sedimentary, etc.

Credit:

This is the person who, as far as our research goes, first described it, or found it.

Reference:

The source of our information. When referencing books, we have taken the decision to omit page numbers. This is because some of these books have many editions and this may cause confusion. In most, the tor name is indexed within and so can easily be found.
Tor Classification
As mentioned, the tors are classified as following: Summit, Summit Avenue, Valley Side, Spur, Small, Emergent, Ruined. We have included Boulders, Clitter, Glacial Remains, Gorge, Gully and Artificial to cover interesting rocks worth visiting, that fall out of Richard Horsham's classification. Explanations to all these are below:
Summit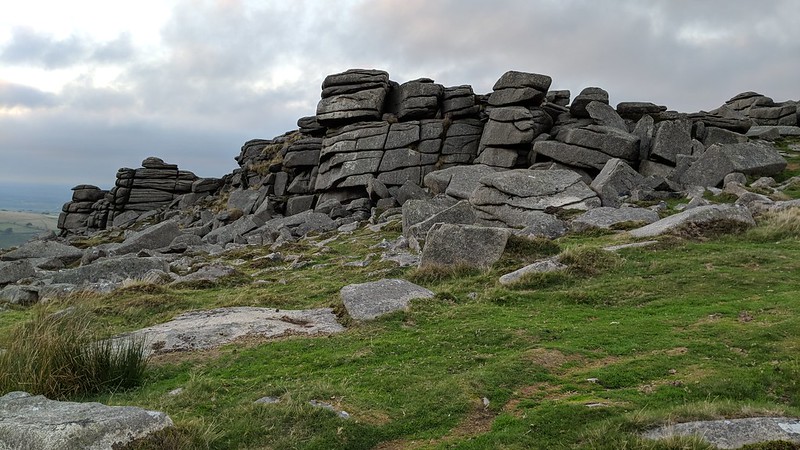 Belstone Tor
This is the most obvious of tors piled on rounded hilltops or on the highest part of a ridge. Needs to be more than 160 metres above the main river valley examples include Belstone Tor and Rippon Tor.
Summit Avenue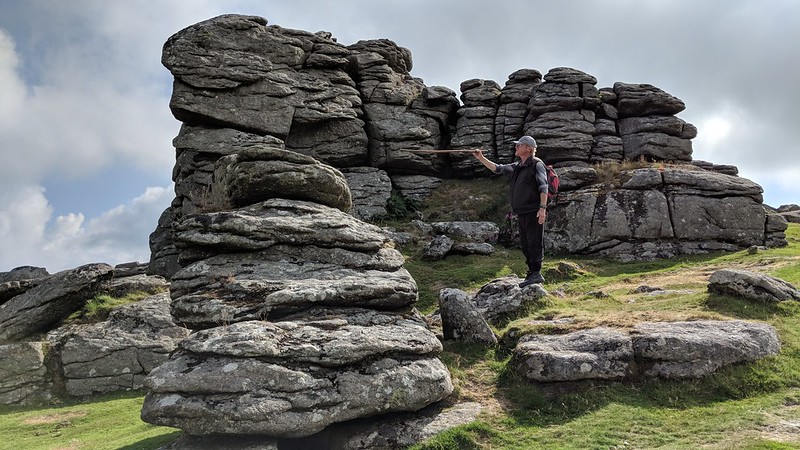 Hound Tor (Manaton)
These are summit tors but with a missing middle section leaving gaps between the main stacks examples include Hound Tor, Great Mis Tor and Pew Tor.
Valley Side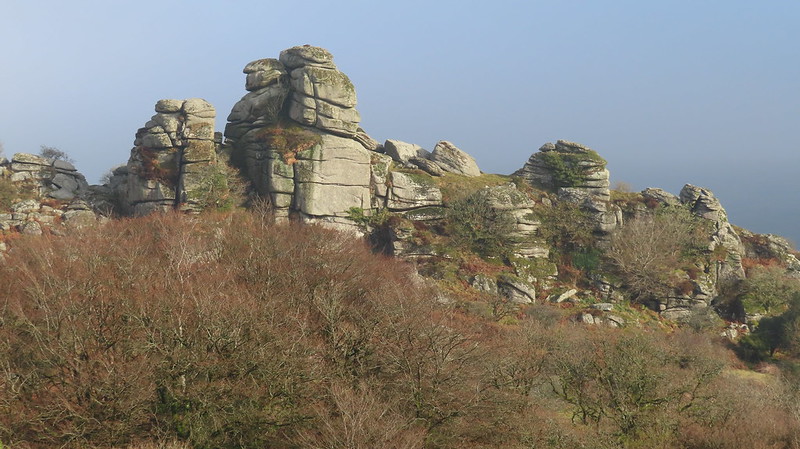 Vixen Tor
This is the highest rock outcrop especially on the down slope side where the onlooker is dwarfed by the magnitude. Vixen Tor is the best example.
Spur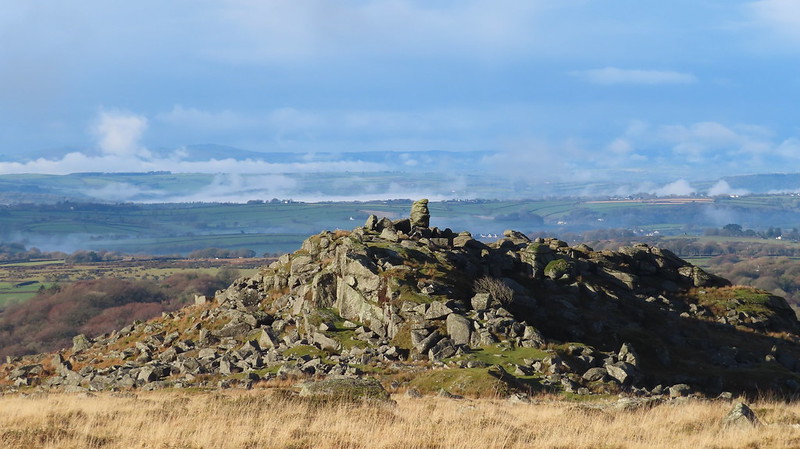 Ingra Tor
At a lower height than the summit but close to and above a break in the steeper valley side for example Ingra Tor.
Small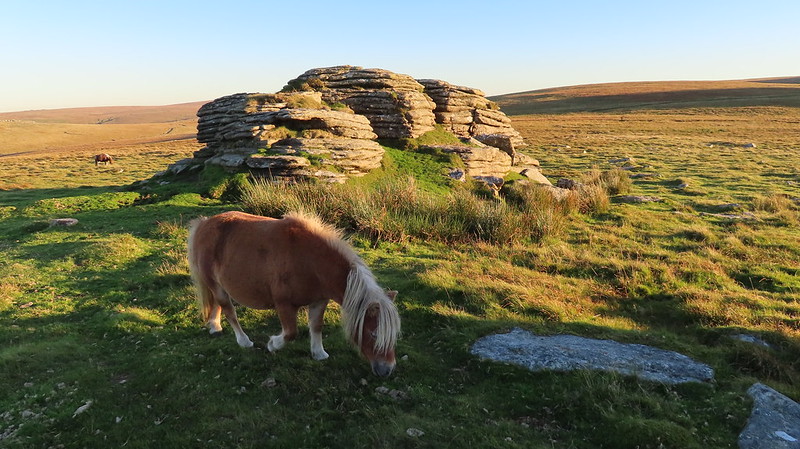 Little Tor
Set on a gentle slope with widely spaced jointing such as seen with Rival Tor or Little Tor.
Emergent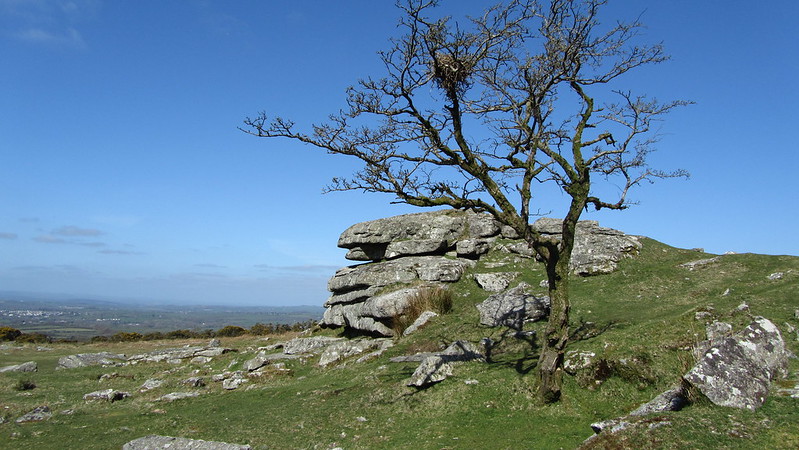 Feather Tor
Not fully emerged as seen with Heckwood and Feather Tors in the Walkham Valley.
Ruined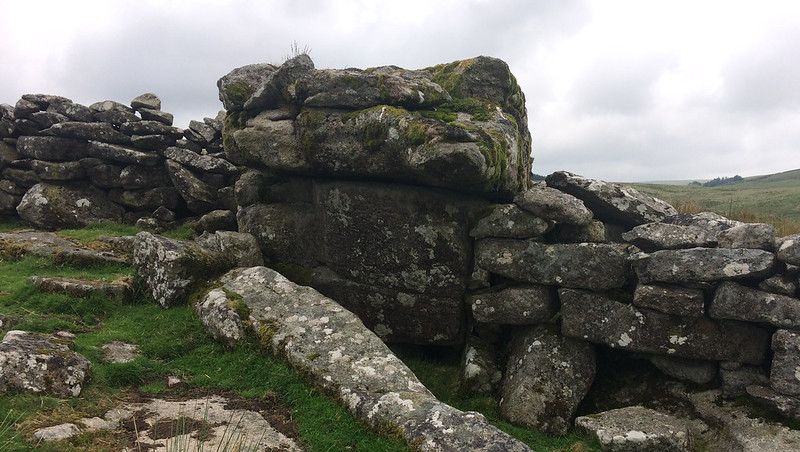 Stone Tor
Subject to excessive decay and collapse such as that seen with Little Hen Tor or Stonetor.
Boulders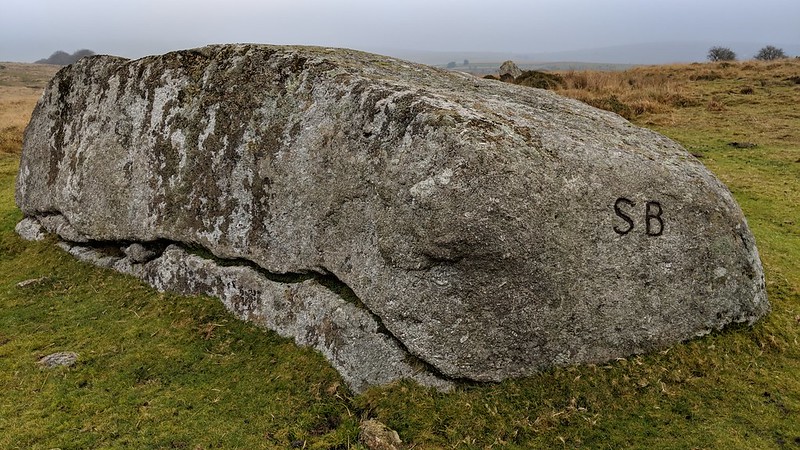 Saddle Rock
A lone or small collection of rocks, not considered a tor, such as Saddle Rock, Coffin Stone or Wicketts Ground Rocks. Some natural boundary rocks with inscriptions are included for historical interest.
Clitter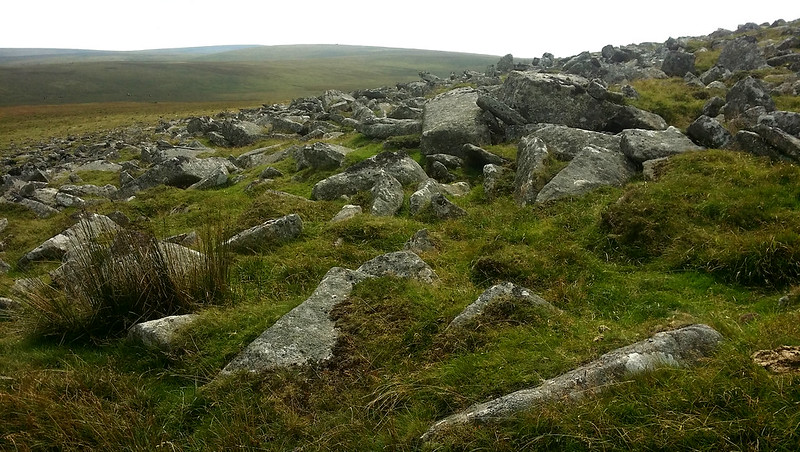 Curtery Clitters
Large collection of boulders frequently seen covering a considerable area on the side of a hill. These rock-fields are really the ruins of tors but some have obtained their own identities such as Curtery Clitters.
Glacial Remains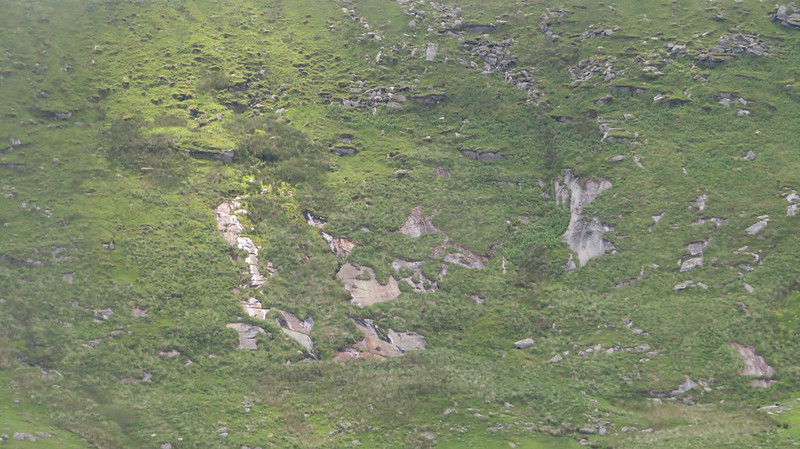 Slipper Stones
Where there is no tor or outcrop, but exposed granite that provides evidence of areas of Dartmoor being carved by glaciers, such as Slipper Stones in the West Okement valley.
Gorge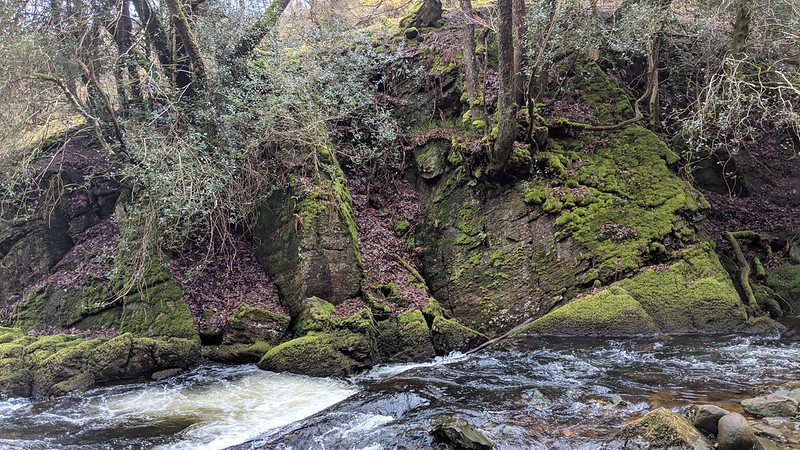 West Cleave Gorge
A gorge is a narrow valley with steep, rocky walls located between hills or mountains. Typically, on Dartmoor, they are formed by river and stream erosion and a couple of fine examples of this are West Cleave Gorge and Valley of Rocks.
Gully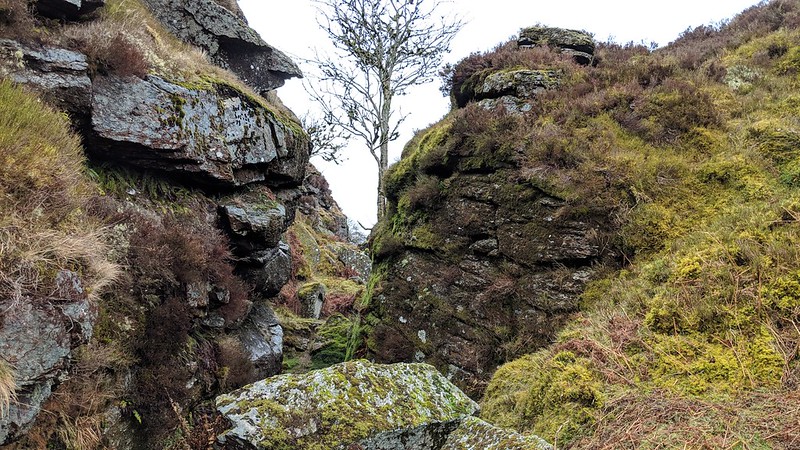 Chaw Gully
Dramatic tin mining excavations, deep ravines that reveal exposed rock outcrops and walls, such as Chaw Gully and The Henroost.
Artificial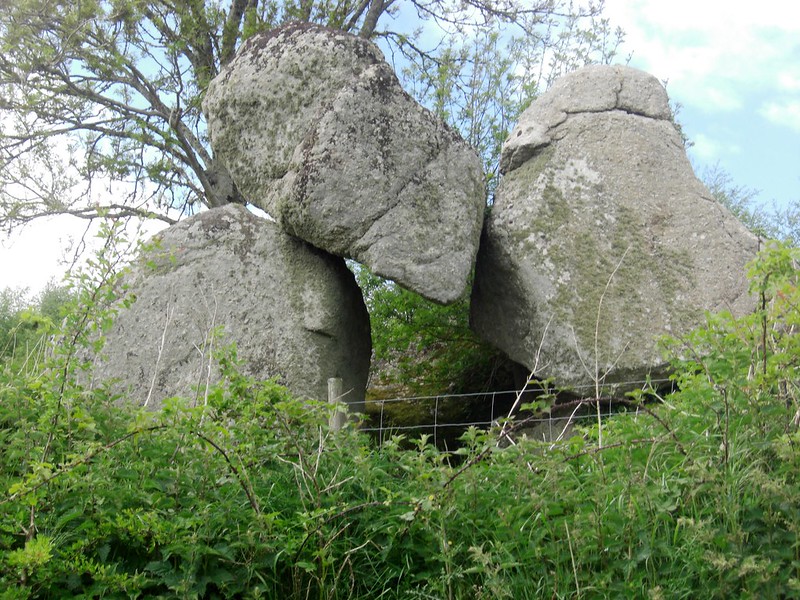 Dog Marsh North Tor
A pile of rocks created by a farmer or landowner, usually the result of field or road clearance such as Dog Marsh North Tor.
Access
We have categorised access to the tors as follows:
Public: Accessible to the public.
Public (part private): A selection of tors that are predominantly on public land but also have minor sections that stray into private land. If you wish to visit the private sections, always seek permission from the landowner.
Private (but a fee to visit): Some tors lie within land that is open to the public for a fee, such as a tourist attraction.
Private (but visible from public land): In many instances, although a tor is on private land, it can be viewed from neighbouring public land. This is always encouraged.
Private (seek permission): Some tors are not visible from afar because they are deep within woodlands. Please seek permission from the landowner before visiting.
Private (but accessible): Quite a number of tors, while on private land, are on land that is nonetheless accessible to the public, such as where a landowner grants permissive access.
Private (NO ACCESS): A small number of tors reside on land where it has been confirmed that no access is afforded by the current landowner. Please be respectful of this.

Private Sign
We always encourage people to seek permission when wanting to visit a tor that lies on private land. We recognise that the biggest problem with that is actually tracking down the owner of the land. There are a few ways to go to find them. Go to our Access Guide for some handy tips.
---